Last update :
03/05/2017

Version Franšaise
Introduction
Figurativly speaking,
polish
mean : "
Complete work with care. Perfecting, fine tuning"
.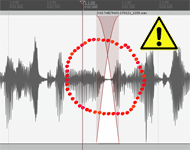 I am meticulous and perfectionist, and I propose careful analyse of your soundtrack for detecting audio passages that can be improved. My experience in sound capture, mixing and soundtrack analyse allow me to detect large number of faults, even those that can be sometimes deemed as minor.
Soundtrack check and polish
The
check and polish
service I propose is not editing, nor mixing, nor mastering, nor restore. But an analytical listening of your soundtrack, with the goal to eliminate severe faults or simply improve perfectible points.
Who is concerned by soundtrack check and polish service ?
My
soundtrack check and polish
service is intended for self-employed people or institutions creating audiovisual media's for public diffusion (radio, TV, Internet) or for internal fields (corporate) and that love and search the best sound quality :
Theatre, TV and radio...
Public or internal events with recorded tracks...
Voice-over : radio/TV, documentary, corporate...
Demo files for internet, shorts for festivals or competitions, etc.
It is
mainly adressed
to peoples :
that think something goes wrong, but can't explain why and so can't do any correction
that think all is OK but prefer to get a validation by "new" and external listening

that are in a learning curve / educational step : beginners and studients in audiovisual, radio, voice-over...

This service
is not well adressed
to :
sound operators working all the days in a sound quality process
musicians that only want artistic feedback on their song
But my soundtrack is already perfect ! How can I improve it ?
Of course, you have already done all was needed to get the best of your soundtrack. But are you sure to have detected all subtle faults ? Are your ears enough educated for that ? Sometimes, things seem to be not significantly bad and certainly will be accepted as this. But what if the final listener hear an unsightly sound on a part of your soundtrack ? Would he be happy ? What about your brand image ?
And if your goal was to fully satisfy him/her with an advanced
checked and polished soundtrack
?
Change your ears - just time of analyse
Repeated listening of a same audio passage often lead in a "sound blindness", and it is not always possible to stop working several days to rest and refresh ears. In a number of cases, it is beneficial that analytical listening be done with new and external ears. It's why I propose
my ears
to do this analytical listening. Of course I'm not gifted nor foolproof. Just a picky human that love well worked sound, and love convey desire to make soundtrack easy and pleasant to hear.
List of faults I can detect ?
Sorry, but I can't publish here a list of all the faults I can detect. Simply can say faults can be purely technical (level, balance or frequency related, background noise, etc) or "artistic" ones (rythme or transition problems, for example).
My working methods
In most cases, I work near artist or sound engineer. But I can also do soundtrack check without author or sound mixer on my side. In both situations, I propose two working methods :
Working method #1

: I tell where faults or perfectible points are located (timecode markers)

but I don't say

what is wrong

Working method #2

: I tell where faults or perfectible points are located (timecode markers)

and say

what is wrong
The working method #1 is an educational approach and is well suited for those who want search and retain faults by themselves. The working method #2 is best for those who want faster report.
During listening phase, I use my
TimelineMarkers
home-made software to mark audio passages to re-adjust.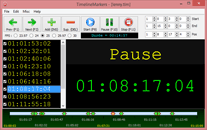 How to do if you can't work on my side ?
Simply send me
a link
to your soundtrack - don't send any file in attached piece. Audio formats accepted are WAV or AIFF 44.1 kHz to 192 kHz, 16 bits to 32 bits, or MP3 320 kbps (256 kbps is also accepted if soundtrack is for Internet demos). After listening your soundtrack, I send you a report that enumerate number of points that can be improved. I give you details of the first point
for free
.
Note for video soundtrack
: please do an export in very low video resolution (MP4/H264 prefered), or better do an export with audio only. If your audio track come from a video, please don't forget to give me the TimeCode start value.
Who am I ?
I am a man who love sound in all aspects. I discovered sound at 14 years old, when building myself
my own FM radio
(including microphone, audio mixer and RF tansmitter). During years I worked as radio host, Disk-Jockey, audio maintener/repairing in radio studios and radio diffusion sites. I am also musician, and have more than 20 years experience as trainer/teacher in professionnal sound services and in audiovisual school (audo devices usage and soundtrack analysing).